http://www.performance-festival.de/wp-content/uploads/2011/08/206_pas21.thumbnail.jpg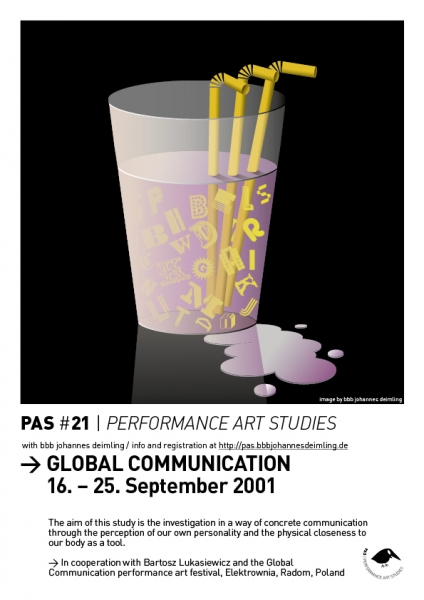 PAS is welcoming you to Performance Art Studies#21
-/ Global Communication/-
In cooperation with Bartosz Lukasiewicz and the Global Communication Performance Art Festival, Elektrownia
16. – 25. september 2011 / Radom, Poland
– Deadline for applications 1st of September 2011 –
Background
Global communication
Our modern communication offer great possibilities and enable us to reach any point in the world just by a click. To get in contact is easy, to become part of communities as well and to share interests, opinions and worries, no problem. But how does our neighborhood change during these times? City marketing and advertising determine what we get to see around us, varied codes of conduct regulate what to do and not to do. Public space has been increasingly functionalized and freed from any intimacy. We are exposing us in social networks, but we don't find a public place with a personal touch. During the study we will use a variety of techniques and exercises to focus perception of our own personality and the surrounding. We are developing skills to communicate in a concrete way with body and actions, and transform these into a performative work.
The presentation of this study will be shown as part of the Global Communication Festival for Performance Art 2011.
Global Communication
For the second time PAS is invited by polish artist and organizer Bartosz Lukasiewicz and the center of contemporary arts Elektrownia in Radom, Poland (click here to see the documentation of PAS #11). Global Communication is an international Festival of Performance art. The focus in this year will be the notion of public spaces and site specific works.
Please check : http://tinyurl.com/3de2ao3
Application form: http://tinyurl.com/3d55awl
Join PAStudies #21